Employee Appreciation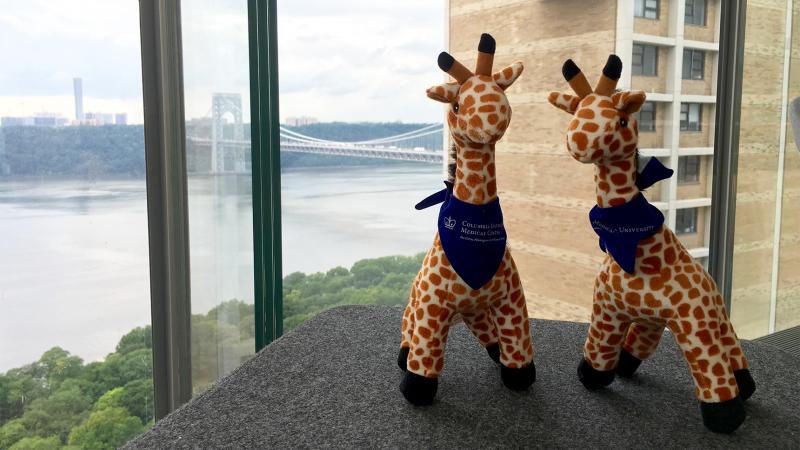 The Facilities Management and Campus Services team is the backbone of Columbia University Irving Medical Center. With more than 300 employees interacting with all aspects of our community, every member of our team is important to CUIMC's continued success and advancement.
To show our appreciation for all that you do, we have several awards and hold events throughout the year.
Giraffe Awards
The Giraffe Awards recognize officers who extend themselves, show outstanding commitment, and go beyond their job function to embody our mission statement: Service excellence through innovation, value, communication, and quality. These awards are not meant to recognize officers for being great at their jobs—many of you are already doing great work!—but to recognize those who have gone above and beyond what is expected of them.
Who can be nominated for a Giraffe Award?
Any officer from any department in Facilities Management and Campus Services may nominate any non-senior leadership officer from within the division. Members of the senior leadership team are not eligible to be nominated for a Giraffe Award.
How can I nominate someone?
Nominate one of your colleagues for a Giraffe Award via our online nomination form. While all nominations will be reviewed by the selection committee, not all nominees will be selected. Unless selected, all Giraffe Award nominations will remain confidential. You may submit a nomination for the Giraffe Award at any time during the year. We'll post deadlines periodically in relation to an upcoming SWAP.
Giraffe Award recipients will be recognized at our division-wide SWAP meetings.
Previous Giraffe Award Winners
2019: Jose Gutierrez, Darby Kline, Misa Radulov, Gina Rodriguez
2018: Fernando Bedoya, Michael Koehn, Cesar Cruz, Deborah Serrano
2017: Alfred Arce, Anton Dedvukaj, Anthony Pizziatolla, Misa Radulov, Ben Suzuki, Gina Rodriguez, Glenroy Simpson
2016: Osmond Ebanks, Joe Fernandez, Brenda Johnson, Wendy Jorge, Jeremy Serrano
2015: Mercy Alejo, Alfred Arce, Rocío Calixto, Barbara Ruiz-Castillo, Kimberly Gonzalez, Tanya Kent-James, Abraham Pagan, Janet Salinas-Vasquez
Baton Awards
Created in 2009 by Dean Lee Goldman, the Baton Award is distributed annually to select CUIMC administrators whose dedication and teamwork help make CUIMC a world-class medical center.
Previous Baton Award Winners
2016: Jeannine Jennette, executive director, Public Safety
2015: Michael Alberto, director, the Faculty Club
2014: Tanya Kent-James, director, Office of Housing Services
CUIMC Employee Appreciation Luncheon
Every summer, the deans from CUIMC's four schools and colleges host a luncheon to thank employees for making us one of the nation's top medical centers. Look out for an invitation in your inbox.
SWAP Meetings
These division-wide meetings are an important way of bringing together our various departments so we can share and celebrate our achievements throughout the year. You'll receive an email inviting you to the next SWAP.