Automated External Defibrillator (AED)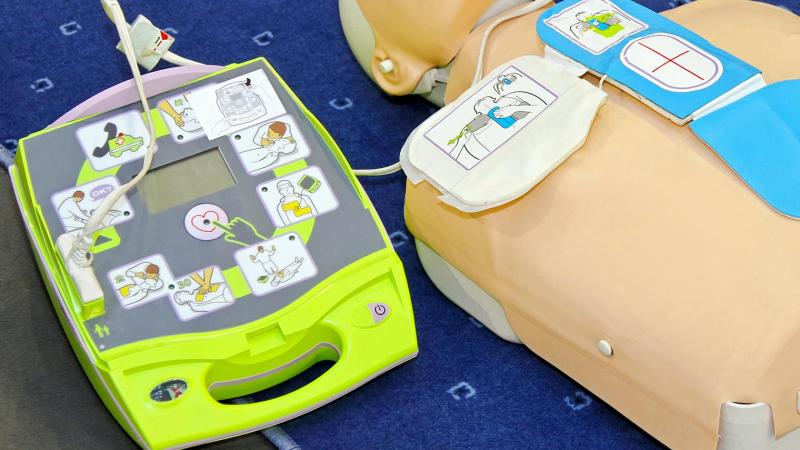 Columbia University, in its commitment to maintaining the safety and well-being of all students, faculty, staff, and visitors, has established a public access defibrillation program to provide life-saving assistance in instances of cardiac health emergencies that require the use of an automated external defibrillator (AED).
Learn about the program on the Columbia Preparedness website.
Irving Medical Center Campus Locations
View AED locations on the Irving Medical Center campus map.
Alumni Auditorium/Schaeffer Gallery (650 W. 168th St.)
50 Haven Athletic Center, LL3 (60 Haven Ave.)
Vagelos College of Physicians and & Surgeons, Faculty Club, 4th floor (630 W. 168th St.) 
Vagelos College of Physicians & Surgeons, Lobby (630 W. 168th St.)
Georgian Building (617 W. 168 St.)
Hammer Health Sciences Center (701 W. 168th St.)
Irving Cancer Research Center (1130 St. Nicholas Ave.)
Mailman School of Public Health (722 W. 168th St.)
Mary Woodard Lasker Biomedical Research Building (3960 Broadway)
Roy and Diana Vagelos Education Center (104 Haven Ave.)
Russ Berrie Medical Science Pavilion (1150 St. Nicholas Ave.)
School of Nursing (560 W. 168th St.)
Tower 2, Student Health on Haven, Floors 2 and 3 (100 Haven Ave.)
Please be advised, access to the area is only available during normal business hours; please visit the Student Health on Haven website for hours of operation
William Black Building, Public Safety Operations Center, 1st floor (650 W. 168th St.)
William Black Building, Lobby (650 W. 168th St.)
Contact
For more information on the AED program, training courses offered at the University, or to report an issue with an AED, please contact aedprogram@columbia.edu.