Fire Safety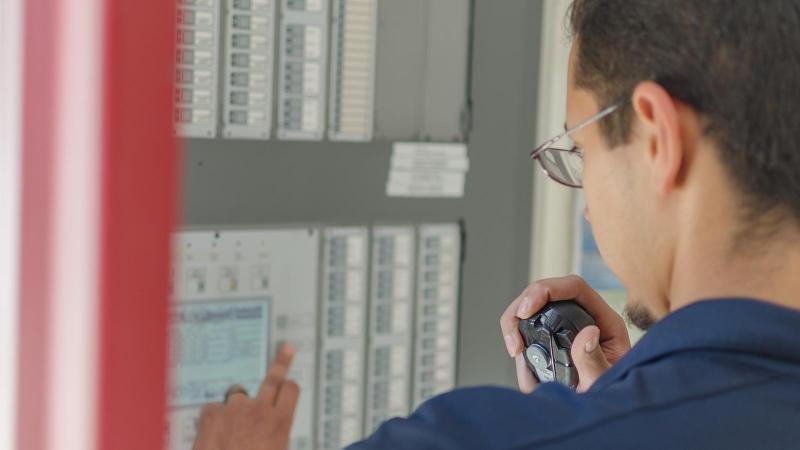 Columbia University Irving Medical Center's fire safety team keeps our community safe from fire. We maintain fire alarm systems, fire suppression systems, and fire extinguishers in all campus buildings. We also manage fire and emergency planning, fire drills, fire permits and compliance, hot work, and event fire safety.
Questions or concerns about fire safety at the medical center? Email us at cumcfiresafety@columbia.edu.
For fire safety related to labs, as well as research, occupational, environmental, and additional safety resources, see Environmental Health and Safety.
---
Fire Safety Dispatch: Phone Chargers
The phone charger pictured to the right was used with a knock-off cord. The cord overheated, shorted out, and caused a brief electrical fire.
Keep yourself and your colleagues safe. Only purchase electrical products from reputable companies.
For more information, visit the National Fire Protection Association.
---
Fire Safety Resources
Know the Basics

Make sure you're ready to act in case of emergency.

Fire Safety Policies

Before you light that Sterno, make sure you're in compliance.

Fire Alarm System Tests

We want to keep you informed of our testing schedule.
Be Prepared: Know Who to Call
CUIMC Public Safety: 212-305-7979
Morningside/Manhattanville Public Safety: 212-854-5555
To reach the New York City Police and Fire Departments or to request an ambulance, call 911.
CUIMC Campus
Facilities Management and Campus Services (any non-urgent questions related to fire safety devices): 212-305-HELP (4357), option 3
Campus Life Safety and Regulatory Compliance (questions specific to fire safety): cumcfiresafety@columbia.edu or call a member of our team
Environmental Health and Safety: 212-305-6780
Public Safety: 212-305-8100
Morningside Campus
Facilities: 212-854-2222
Fire Safety: 212-854-8518
Environmental Health and Safety: 212-854-8749
Public Safety: 212-854-2797