​Towers 1, 2, and 3
Built in 1971, Towers 1, 2, and 3 are a landmark feature of the Columbia University Irving Medical Center skyline, rising 30 stories above the rocky cliffs over the Hudson River. Tower 1 conveniently connects to 50 Haven Ave., which houses CUIMC's athletic center and the ballroom where the student meal plan is served. Towers 2 and 3 share a courtyard with the Vagelos Education Center, a verdant area with stunning views of the river, the George Washington Bridge, and the Palisades.
The Towers provide spacious two- and three-person suites for single students and junior one-bedrooms and one-bedroom apartments for couples. You can join the Towers community through the 50 Haven Ave. to Towers Lottery or through a Couples Application.
In 2017, we embarked upon a multi-year project designed to enhance spaces throughout Towers 1, 2, and 3. Learn about the Towers Modernization Project.
Average bedroom size: 9'x12'
Full kitchen in each apartment
Full bathroom in each apartment
Furnishings for some rooms depending on the lease type:*

Extra-long twin bed
Dresser
Desk with chair
Hutch for desk
Table lamp
* Upon special request, we can also remove the furniture

Lighting: Common areas are lit; residents must provide lighting for their bedrooms.
Window blinds or shades
Elevator service
Laundry: Card-operated washers and dryers

Tower 1 offers laundry services on the sixth, eighth, 10th, and 12th floors, and on every floor from the 14th through 31st floors.
Towers 2 and 3 have washing machines on even floors and dryers in select areas as well.

24-hour security
Mailroom
Package delivery: Tenants can pick up their packages from the door attendants of their respective buildings.
The apartments do not contain fire suppression sprinklers.
2021-22 Average Monthly Rental/Person
Studio Apartment: $2,005
3-Bedroom Apartment: $1,023-$1,241
4-Bedroom Apartment: $921-$1,146
Couples Jr. 1-Bedroom Apartment: $2,116
Couples 1-Bedroom Apartment: $2,205-$2,469
Student Financial Services, in conjunction with the Office of Housing Services, handles your housing billing. Housing charges are billed monthly to your student account. The occupancy agreement you signed is a legally binding document that outlines the terms and conditions for your term period, and in most cases, corresponds to your school's or program's academic calendar.
Your monthly billing will begin on the day you pick up your keys from the Office of Housing Services. Housing rates are subject to an increase each year, beginning each June.
What to Expect:
The monthly housing charge will appear on the student account in the prior month. Payment for each month is due on the date listed on the bill where the housing charge appears.
When a new student account statement is released and ready to view and/or pay online, you will receive an email via your Columbia University email account. The University does not mail paper bills.
Review the SFS billing schedule for more information about statements and due dates.
Rent for the first month is pro-rated based on the move-in date.
If you have questions regarding room charges, payments, and account balance, contact Student Financial Services by calling 212-342-4790.
Smoking is prohibited on all CUIMC property, both indoors and outdoors. This policy extends to all CUIMC residential facilities, including all apartments; public spaces such as lobbies, hallways, and stairwells; building entrances; adjacent courtyards; garages; and rooftops.
If you or anyone in your apartment is found smoking, everyone who lives in the apartment will receive a $250 fine for each occurrence. Learn more at Smoke-Free at CUIMC.
Included in rent: The buildings are centrally air conditioned and heated. Hot and cold water, heat, and air conditioning are included in rental rate. Wireless internet is provided by CUIMC IT.
Not included: Gas, phone, cable, and electricity. While the buildings do have air conditioning readily available, tenants will be billed for the electricity used to run the air conditioner.
Open location in Google Maps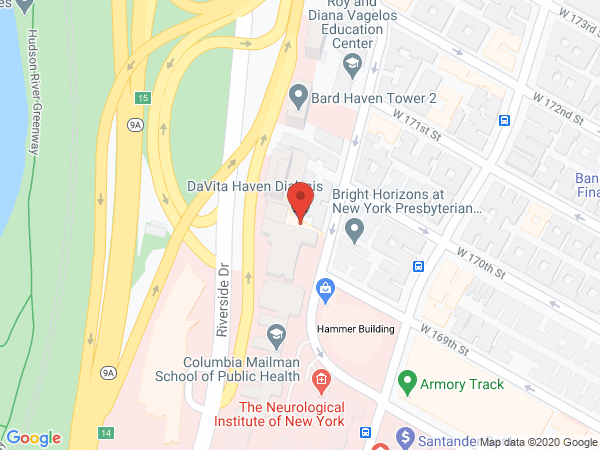 Open location in Google Maps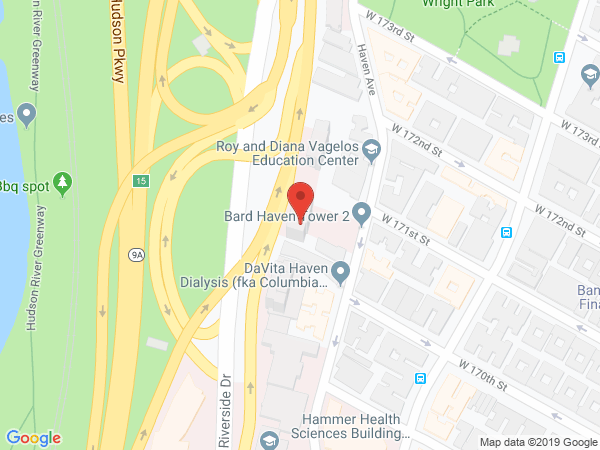 Building Staff
Robert Dagstine