​Georgian Residence
Georgian Residence traces its rich history back to the early days of Columbia University Irving Medical Center. Originally built as a private apartment building, it was purchased by Presbyterian Hospital in 1962 to house staff nurses. Today, some of the building's finer architectural details remain: solid wood floors, decorative door moldings, and spacious rooms.
Since 1983, Georgian Residence has housed academic offices on its first three floors and residential units on the top four floors. You can select from studios and two-person suites.
Room size varies, from 353 square feet for studios to 571 square feet for the full one-bedrooms. Two-bedroom suites can measure about 200 square feet per bedroom. Please inquire about specific room sizes when reviewing your accommodations.
Furnishings in each bedroom include:

Twin XL bed
Dresser
Bookshelf
Desk and chair
Window Air Conditioner

Full bathroom in each suite
Kitchenette: Built-in unit with sink, cook top, and refrigerator (no oven)
Lighting: Bathroom, hallway and kitchen areas are lit; residents must provide lighting for their bedrooms and livingrooms
Window shades
Elevator service
Laundry: Washers and dryers on the first floor
24-hour security
Lounge, equipped with a stove and microwave, on the fourth floor
Mail and Packages: Residents may pick up their packages and mail at the centralized mailroom and package center, 1st Floor of Tower 1.
Only the corridors contain fire suppression sprinklers.
For new students, your Occupancy Agreement begins on your move-in day and continues to May 31 of the following year. During the renewal process (which happens during the spring semester), you will sign a 12-month Occupancy Agreement that begins June 1 and continues to May 31 the following year. You will be responsible for the rent during the entire 12-month period, including the summer. If you choose not to renew, you must re-apply for housing and we will assign you after we assign all other students (new and current). 50 Haven is the only building that offers 10-month occupancy, allowing students to move out during the summer period.
2023-24 Average Monthly Rental/Person
Studio Apartment: $1,574
1-Bedroom Apartment: $1,685
2-Bedroom Apartment: $1,131-$1,476
Student Financial Services, in conjunction with the Office of Housing Services, handles your housing billing. Housing charges are billed monthly to your student account. The occupancy agreement you signed is a legally binding document that outlines the terms and conditions for your term period, and in most cases, corresponds to your school's or program's academic calendar.
Your monthly billing will begin on the day you pick up your keys from the Office of Housing Services. Housing rates are subject to an increase each year, beginning each June.
What to Expect:
The monthly housing charge will appear on the student account in the prior month. Payment for each month is due on the date listed on the bill where the housing charge appears.
When a new student account statement is released and ready to view and/or pay online, you will receive an email via your Columbia University email account. The University does not mail paper bills.
Review the SFS billing schedule for more information about statements and due dates.
Rent for the first month is pro-rated based on the move-in date.
If you have questions regarding room charges, payments, and account balance, contact Student Financial Services by calling 212-342-4790.
Smoking is prohibited on all CUIMC property, both indoors and outdoors. This policy extends to all CUIMC residential facilities, including all apartments; public spaces such as lobbies, hallways, and stairwells; building entrances; adjacent courtyards; garages; and rooftops.
If you or anyone in your apartment is found smoking, everyone who lives in the apartment will receive a $250 fine for each occurrence. Learn more at Smoke-Free at CUIMC.
Included in rent: Electricity, heat, hot and cold water. Wireless internet is provided by CUIMC IT.
Not included: Phone and cable
Air conditioning: Georgian Residence does not have central air. We provide a window air conditioner in each bedroom.
Open location in Google Maps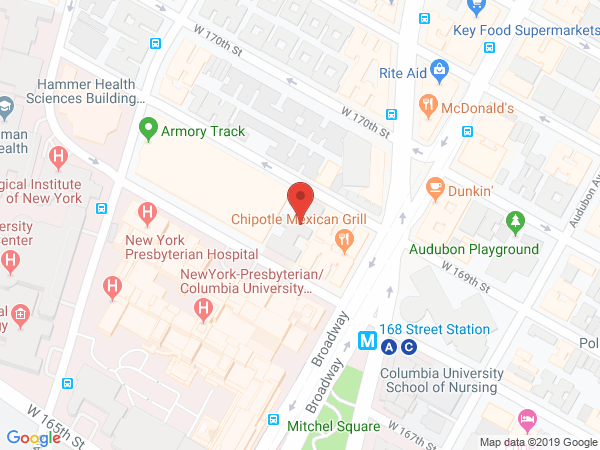 Building Staff
Robert Dagstine