Anna Getselman
Associate Dean, Augustus C. Long Health Sciences Library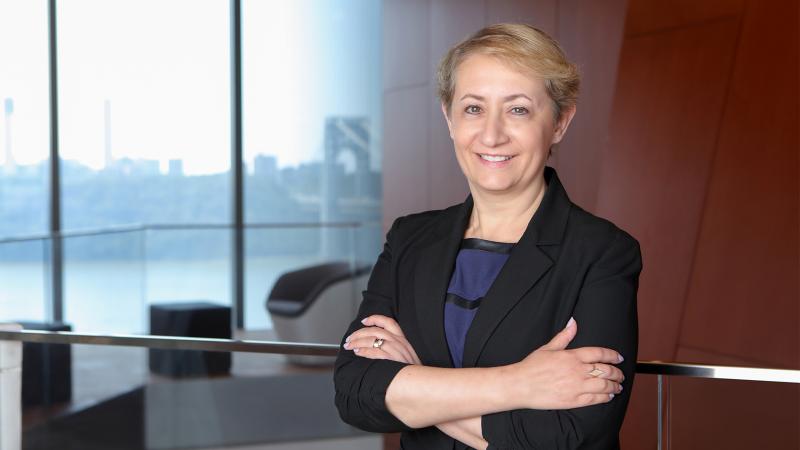 Anna Getselman has more than 15 years of experience in health sciences librarianship and more than 20 years in academic libraries. Since 2012, she has led the Augustus C. Long Health Sciences Library through a process of continuous reinvention. Under her leadership, the library has renovated 8,500 square feet of library and teaching space, enabling barrier-free interaction with biomedical data and recorded knowledge; expanded its programming efforts; and negotiated contracts with publishers, resulting in the addition of electronic journal and book titles to library subscriptions.
Anna began her career at Sterling Memorial Library at Yale University, with positions in the acquisitions department, manuscripts and archives, and the Epidemiology and Public Health Library. She also previously served as associate director of the Woodruff Health Sciences Center Library at Emory University, and as assistant director for Reference and Education Services at the Countway Library of Medicine at Harvard University.
Contact Information
212-305-1406
ag3353@cumc.columbia.edu
Publications
Recent Publications
Getselman A., et al. Information Resource Discovery for Surgeons: Databases and the Internet. In: D.W. Wilmore, ed. Surgical Research. San Diego, CA; Academic Press, 2001:1319-1336.
Getselman A., White MS. Use of a pre-assessment tool to start a meaningful dialogue: new paradigms in library instruction. Med Ref Serv Q. 2011;30(3):245-56.
Getselman A., and Franklin S. G. Situating health librarianship within the healthcare environment. In: J. Huber and F. Tu-Keefner, eds. Health librarianship: An introduction. Santa Barbara, CA: Libraries Unlimited, 2014:47-56.
Getselman A., et al., Health Sciences Libraries Forecasting Information Service Trends for Researchers: Models Applicable to All Academic Libraries. College & Research Libraries, 2016:77(5):595-613.
Recent Posters and Presentations
Getselman A., "Using Metrics to Unpack Value of Journals: Collecting for Readers in Academia," Fall Workshop Series, American Publishers Association, 2016.
Getselman A., "Competence, Supercompetence, and Modern Health Information Packaging," TEACH workshop, New York Academy of Medicine, 2015.
Cheek, Fern M., Anna Getselman, Lynda J. Hartel, Timothy J. Cain, Jeremy Kupsco, and Barbara Abu-Zeid. "Service by Design: Mapping Expressed Information Needs and Preferences of Modern Academic Researchers to Information Services and Technologies," Medical Library Association Annual Meeting, Boston, MA, May 2013.
Affiliations
Medical Library Association
Association of Academic Health Sciences Libraries
Group on Information Resources, Association of American Medical Colleges