Sustainable Leaders Network recognizes medical center departments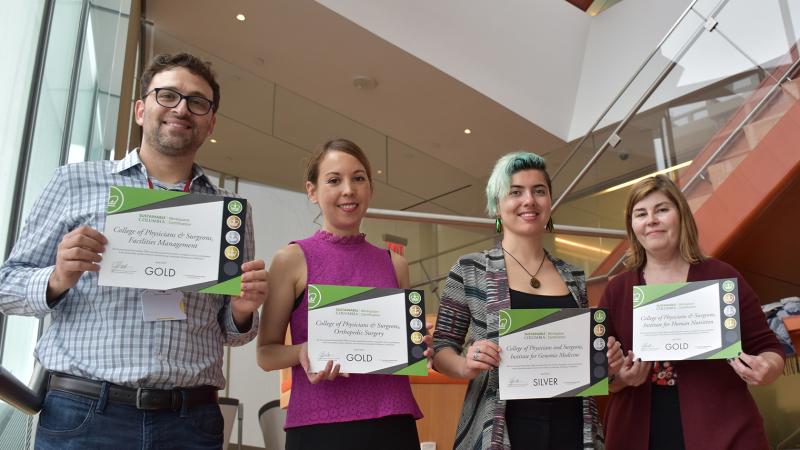 On April 11, the Office of Environmental Stewardship recognized participants in the pilot year of the Sustainable Leaders Network Workspace Certification Program. CUIMC Facilities Management was honored with gold, alongside three departments of the Vagelos College of Physicians and Surgeons: Institute for Human Nutrition (gold), Orthopedic Surgery (gold), and Institute for Genomic Medicine (silver).
The School of Nursing was also honored with a gold certification at the school level, the highest level achieved by any of Columbia University's 20 schools; eight teams participated and each receiving certifications ranging from green zone to platinum. 
In the coming year, these departments will work to improve their scores and make measurable changes toward a greater culture of sustainability.
When President Lee Bollinger announced the University's first set of Sustainability Principles in fall 2016, he also introduced the Sustainable Leaders Network, a forum that would gather stakeholders across the campuses and give them the tools to drive cultural change in their schools. In the kick-off year, the deans of Columbia's schools identified three volunteers from each school to participate in this group: one faculty member, one student, and one administrator.
Appointed the administrator lead for VP&S, Harris Schaer, associate director of Energy Management and Sustainability for Facilities Engineering, has worked to draw up support for the SLN's objectives across the VP&S departments, as well as identify staff to serve as Green Leaders and help them become familiar with the SLN's Workspace Certification process and tools.
Members of the medical center community can do their part by reviewing our sustainability tips. If you have questions about the Sustainable Leaders Network or how to get your department involved, contact environment@columbia.edu.