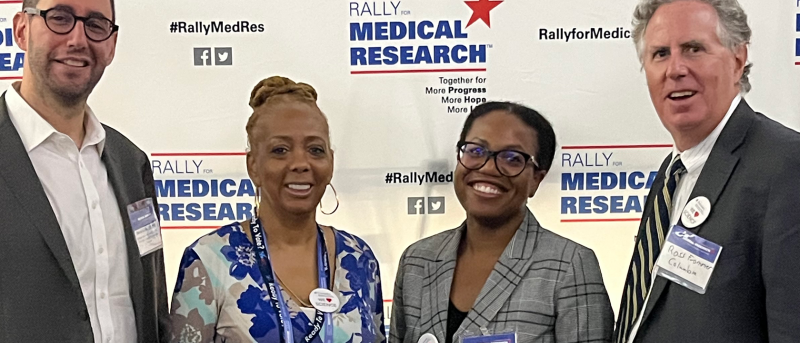 Susann Miles Rallies for Medical Research
During the annual Rally for Medical Research in Washington D.C., physicians, students, researchers, and medical staff are presented with an opportunity to meet with members of congress with the hope of making National Institute of Health (NIH) funding a priority. Discussion topics range from targeting health disparities within marginalized communities to adequate funding for research and medical care. 
Five members of the CUIMC community attended this year's rally which took place on Wednesday, September 14. Facilities employee Susann Miles was quick to volunteer when the call for representation first came out. 
"I not only work in the area but also live in Manhattan. I'm not a researcher or a doctor, but I work on grants in Facilities Management," said Miles, a procurement and payable analyst with CUIMC Facilities Management's Finance and Administration team for six years.
Upon arriving at the capitol Miles joined the other rally participants in a training session consisting of roleplay scenarios before attending a reception to celebrate medical research. At the reception, the participants were presented with the opportunity to network and hear from a variety of congressional members. 
 "They spoke about the importance of research, and everyone there had a personal experience with an illness. They can relate as to why this is so important," said Miles.
The following day, participants were tasked with preparing and giving short speeches. Miles' speeches were personal testimonies to the impact of Alzheimer's and Cancer, illnesses that members of her family have suffered from. Additionally, Miles also got to host and mentor rally attendees from Howard University's undergraduate program. 
"Everybody brought something great to the table. Some people talked about economic factors; some people talked about the reasoning behind why they were researching certain topics. Everybody was super passionate about it, which helped me become passionate," Miles said. 
When asked what her biggest takeaway from this experience was, Miles responded: "The fact that we must lobby congress to get funding for something that is so fundamental… and the United States needs to continue to lead on that. This is something that we shouldn't have to think about. Preventative care helps save money, and people don't think about that."
Miles plans on attending the Rally for Medical Research in the future due to her positive and impactful experience while on Capitol Hill.