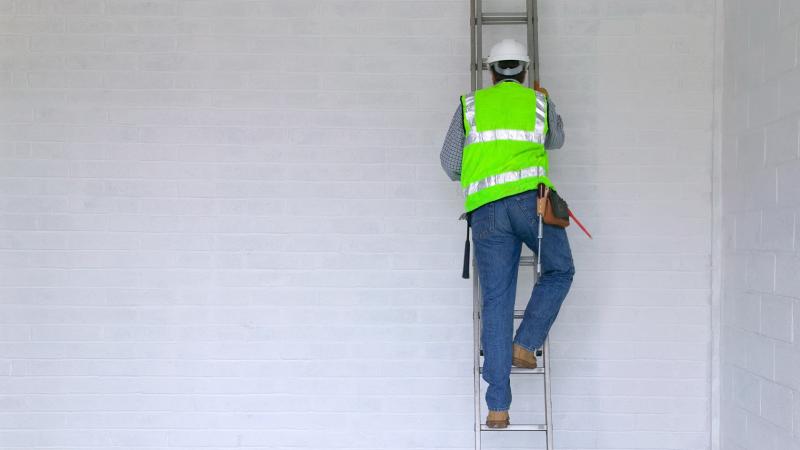 Ladders are an essential tool for CUIMC Facilities Management staff to complete tasks that require employees to work on an elevated level.
The Occupational Health and Safety Administration (OSHA) provides these tips to help us work more safely and prevent injuries while using ladders:
Do not tie ladders together to make longer sections, unless designed for such use.
Do not load ladders beyond the maximum load for which they were built, nor beyond the manufacturer's rated capacity. The rated capacity is usually found either on the ladder or on the manufacturer's website.
Do not use ladders on slippery surfaces.
Maintain ladders free of oil, grease, and other slippery materials.
Do not carry an object or a load that could cause you to lose your balance on the ladder.
Keep areas clear around the top and bottom of the ladders.
Do not move, shift, or extend ladders while they are in use.
Do not use the top step or rung of a ladder as a step or rung.
Always maintain a 3-point (two hands and a foot, or two feet and a hand) contact on the ladder when climbing. Keep your body near the middle of the step and always face the ladder while climbing.
Always inspect the ladder before using it. If the ladder is damaged, it must be removed from service and tagged until repaired or discarded.
Beware of electrical hazards. Look for power lines before handling a ladder. Avoid using a metal ladder near exposed energized electrical equipment.
These tips are specific to extension and straight ladders:
Raise extension ladder to the desired height and lock both sides.
Never stand on the top three rungs of a straight or extension ladder.
Do not lean a ladder against a movable object.
Always face the ladder and hold the side rails with both hands, when going up or down the ladder.
For more information or questions about ladder safety, please speak with your supervisor or contact a member of the Campus Life Safety and Regulatory Compliance team.
For safety reasons, we do not lend out equipment, such as ladders or dollies, to non-CUIMC Facilities Management employees or outside vendors or contractors​.