Freezer Exchange Program A Game Changer for Energy Efficiency at CUIMC
To make CUIMC a more sustainable campus, the Department of Engineering partnered with the Vagelos College of Physicians and Surgeons Office for Research to promote energy efficient freezers for laboratories throughout the campus which will have a big impact on our operations and move us toward our goal of carbon neutrality.
Laboratories across CUIMC use Ultra-Low Temperature freezers (ULTs), otherwise known as -80°Cs, for storage of experimental samples, as well as for biobanking of clinically-obtained human biospecimens. The issue lies in that most of the current freezer models in use by CUIMC laboratories are rather energy inefficient.
To address this problem, John Smerdon, Ph.D., VP&S Office for Research, collaborated with Jeet Viswanathan, CEM, LEED AP O+M Director, Energy Management & Sustainability, to establish a freezer exchange program for researchers to exchange old ULTs for new, high-efficiency ULTs.
Most CUIMC labs are using ULT models that consume energy in the range of 20-32kWh/day (7300kWh-11,680kWh a year) and produce approximately 3,000 BTUs in heat, equivalent to running a small space heater 24 hours per day, putting a significant load on building HVAC systems. Switching to more energy efficient ULT models will greatly reduce energy output. The energy efficient models utilize approximately 66% less energy and generate heat at levels less than 50% of the ULTs that are seven years of age and older.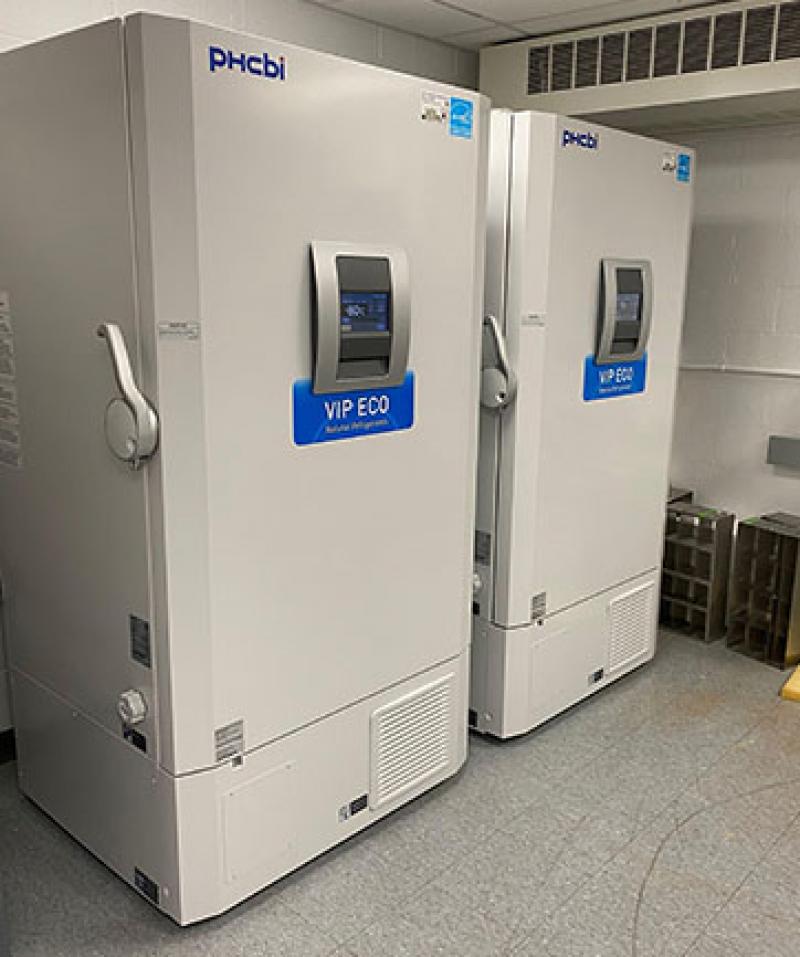 "We can save at least 1.2 million kWh or $175,000 in energy cost or 2.6 million dollars over the life of the new freezers based on 15 years life or 882 metric tons of carbon emissions every year," says Viswanathan. "This will also reduce electrical and HVAC maintenance requirements for Facilities Operations, and improve the ability for Facilities Capital Projects to plan and deliver new laboratory spaces that adequately support research activities."
The freezer exchange program developed by Smerdon and Viswanathan provides rebates and incentives to researchers who adopt new models of high efficiency ULTs. Here is how the program works:
Columbia Procurement negotiated an extremely discounted price with the freezer vendor. These freezers usually cost $14,000 but the CUIMC negotiated rate is $11,000. The recommended freezer monitoring system is included in the price of the freezer. Facilities Engineering negotiated with Consolidated Edison (ConEdison) to provide a rebate of roughly 10% of the freezer cost for qualified freezers.
The VP&S Office for Research will match the ConEdison rebate for the first 25 qualified freezers for VP&S investigators or departments.
When a new, high efficiency freezer is installed, the vendor will remove the old freezer.
For more information and for questions on purchasing high efficiency freezers visit the freezer exchange program site.
"The freezer exchange program has really been a wonderful partnership between CUIMC Facilities, Columbia Procurement, the VP&S Office for Research, and the research community.  We hope to continue that partnership to identify new initiatives in the future," adds Smerdon.