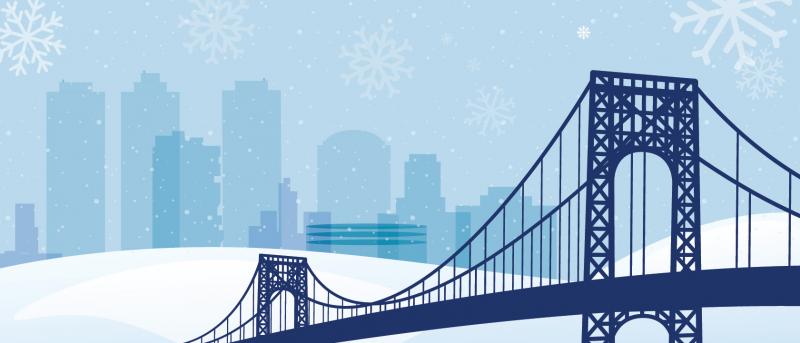 Season's Greetings from Facilities Management and Campus Services
Every day, we work together to house and feed the medical center community, keep our campus safe, provide essential services, and build and maintain the spaces that allow our students, faculty, and researchers to do their best work.
As the year comes to a close, we're taking a look back at the many ways we're proud to have served you this year.
We supported your spaces.
16,500 completed work orders—and counting!
Two winter storms—Niko and Stella—could not stop us from spearheading the campus clean-up.
13,000 guests celebrated Commencement in spaces we prepared and supported.
10 elevators in Hammer Health Sciences Center are being renovated to improve their reliability, functionality, and appearance as part of the Hammer Elevator Modernization Project.
80 percent reduction in carbon emissions by 2050: our target for Columbia University's Sustainability Plan.
We built spaces to further transform education and health care.
We provided resources to support your day-to-day work and wellbeing.
More than 15,000 medical appointments, with an additional nearly 8,000 appointments in mental health, wellness, and addiction management and information strategies.
15 Crafternoons, 10 Pop-up Wellness events, and a new Stressbusters program.
243,337 Knowledge Center visits and more than 2,500 interlibrary loan requests.
267 educational sessions, with nearly 3,000 attendees, at the Augustus C. Long Health Sciences Library.
Three major library exhibits in conjunction with significant CUMC anniversaries.
689 housing applications received and 475 tenants assigned on-campus housing.
Two residences—154 Haven Ave. and 390 Fort Washington residences—in our pilot composting program.
More than 3,000 member students at Bard Athletic Center during the 2016-17 academic year.
5,500 catered events, from small meetings to elegant plated dinners, and probably your office holiday party!
We kept you safe.
15 safety and emergency response training sessions, with more than 400 attendees.
More than 38,000 calls for Public Safety service and more than 7,500 security escorts.
Two Security Awareness Days, 34 crime prevention and personal safety lectures/orientations, 15 Operation ID tables, and three self-defense classes to help you stay safe.
148 fire drills, with 2,717 participants, and round-the-clock fire safety campus coverage.
We look forward to continuing to support you and the medical center in 2018. Happy holidays and best wishes for a productive new year.