Community Advisory: Accelerated Water Main Replacement Project, Various Locations
Shared on behalf of the New York City Department of Design and Construction. Any inquiries should be directed to the Community Construction Liaison (CCL), Caroline Galeotafiore, at 347-833-6373.
Project: MEDA-002, Accelerated Water Main Replacements, Various Manhattan Locations
Expected Start Date: June 11, 2018
Expected Start Location: West 172nd St. between Haven Ave. and Fort Washington Ave.
Expected Completion: TBD (DELAYED)
Please be advised that on/about the week of June 11, 2018, the New York City Department of Design & Construction (NYC DDC) will begin construction for the replacement of existing distribution water mains, as well as fire hydrants and water valves as needed. The purpose of the project is to provide New Yorkers with safe drinking water while improving the quality of water service. Construction will eventually progress to the following blocks:
West 165th Street from Riverside Drive to Fort Washington Avenue
West 168th Street through West 172nd Street from Haven Avenue to Fort Washington Avenue
Haven Avenue from West 168th Street to West 172nd Street
Fort Washington from West 165th Street to West 172nd Street (Intersections Only)
Riverside Drive from West 168th Street to West 172nd Street
What are the community impacts?
NYC DDC is committed to maintaining a worksite that is safe and clean. However, dust, noise, and the presence of heavy equipment are common elements of construction. We ask for your patience during the project. To facilitate the construction, there may be limited street access on certain blocks during work hours. Access will be granted for deliveries to commercial/residential properties, as well as emergency vehicles.
Pedestrian Access
Pedestrian access will be maintained at all times.
Temporary street closures and/or limited access may be necessary.
Flag Persons will be assigned for traffic control.
DDC will monitor operations and work within DEP Noise Code regulations.
Sidewalk and/or loading docks may be temporarily restricted (coordinate with the CCL).
Parking may be restricted during construction hours.
Bus stops and/or bike lanes in the area may be temporarily relocated/closed off.
Water Service Interruptions
Water main shutdowns may extend past the construction site boundaries.
Weekly Construction Bulletins will include information about water shutdowns.
A 72-hour advisory is typically provided, followed by a 24-hour notice of confirmation.
Water service interruptions may last for up to approximately eight (8) hours.
What are the work hours?
Monday through Friday from 7 a.m. to 3:30 p.m., as well as nights and/or weekend hours when needed.
Construction Bulletin: March 23-27, 2020
The following is an anticipated work schedule for the upcoming week. However, due to unforeseen field conditions and weather conditions, it may become necessary to alter certain details, such as scheduled work locations, construction operations, and dates. You will be notified accordingly if you are subscribed for updates.
| Date | Work Hours   | Location(s) | Operation(s) |
| --- | --- | --- | --- |
| Mar. 23-27   | 7 a.m.-4 p.m. | Fort Washington Ave. from W. 171st St. to W. 172nd St.  | Con Edison Electrical Utility Work  |
Map of Impact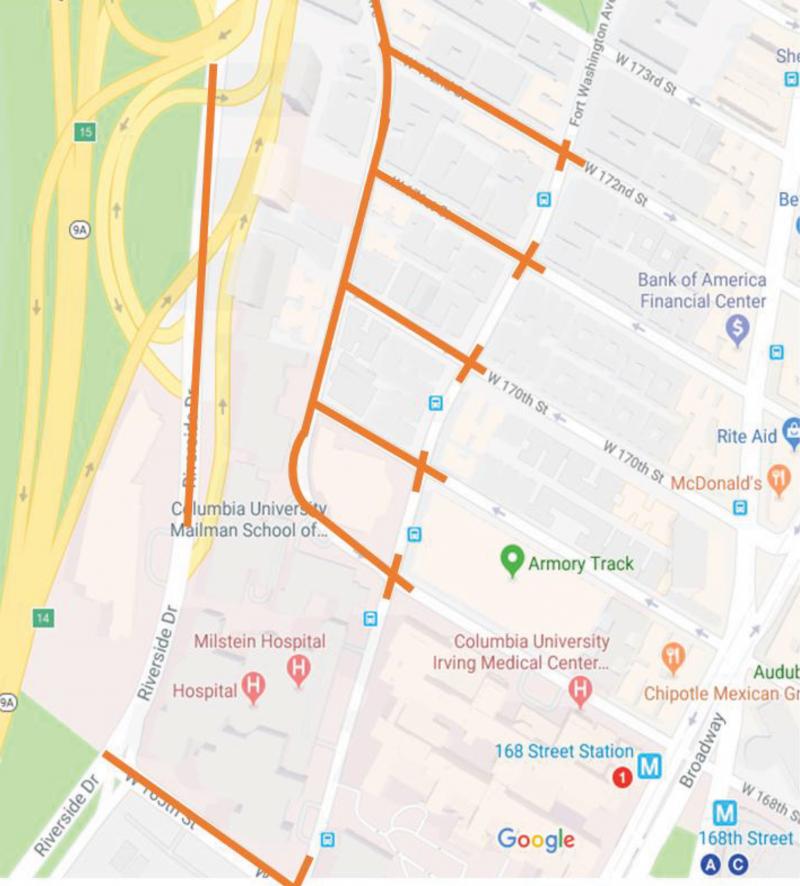 More Information or Concerns
Please contact the Community Construction Liaison (CCL), Caroline Galeotafiore, at 347-833-6373.
For community impacts, affected properties will be notified 72 hours in advance, followed by a 24-hour notice of confirmation. Water main shutdown limits may extend beyond the construction zone.
To be added to the email notification list: Please email the project's CCL, Caroline Galeotafiore, at MEDA002CCL@gmail.com.
Visit nyc.gov/ddc for more information.
During non-construction hours, dial 311 for the NYC Government Services & Information Hotline.