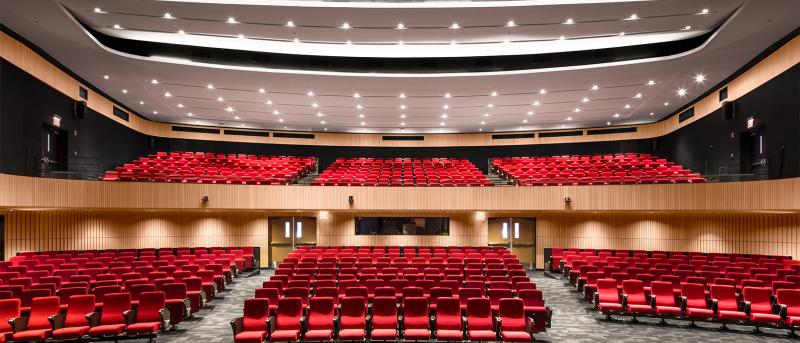 Alumni Auditorium reopens with brilliant, light-filled space
On Tuesday, September 4, the newly renovated Alumni Auditorium reopened. Over the course of 15 months, this central feature of the Irving Medical Center campus shed its fortress-like characteristics to become a welcoming, highly-sophisticated modern learning environment and assembly space where employees, students, and visitors can gather, share ideas, and innovate.
Long hidden from view by scaffolding, the auditorium lobby, now known as the Schaefer Awards Gallery, features sculptural ash millwork that curves impressively overhead. The pristine, light-filled lobby allows for seamless travel from the William Black Building to the Vagelos College of Physicians and Surgeons via a new connection, including an accessible lift. Once completely windowless, the glass-enclosed space has created a visual connection with the streetscape and community. When needed, the space can also afford privacy thanks to motorized bottom-up shades.
Last fall, the auditorium opened with 648 new seats with table arms, and charging stations and USB ports at the bases of the chairs. This September, the auditorium opened with a soaring new ceiling, LED lighting system, upgraded fire alarm and sprinkler system, high-end acoustic integrated wood wall system, and new audiovisual system.
CUIMC Facilities Management was heavily involved throughout the transformation. Members of the Capital Project Management team oversaw the project planning, design, and construction. Our Facilities Engineering team led the commissioning process, which aims to maximize efficiency and comfort. Going forward, our Campus Operations team will provide routine cleaning to preserve the space.
How to Access and Use the Space
Located at 650 W. 168th St., Alumni Auditorium is accessible via the William Black Building and a new connection from the Vagelos College of Physicians and Surgeons. Members of the CUIMC community should present their IDs to security upon entering.
The Schaefer Awards Gallery features a new accessible restroom. The new men's and women's restrooms will open later this fall.
To book the space, submit a reservation request via the room reservation system 25Live. Please keep in mind that food and drink are not permitted within the auditorium, but you are welcome to enjoy refreshments in the Schaefer Awards Gallery. For questions about the audiovisual capabilities of the auditorium, please contact cumcclassrooms@columbia.edu.
View the Transformation
Top Image Credit: Pavel Bendov